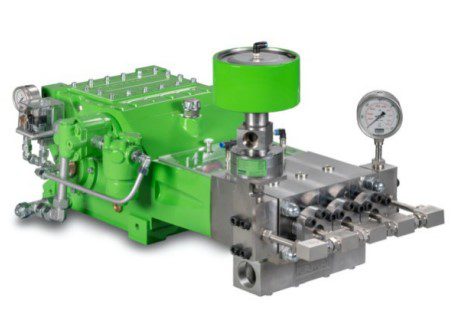 Cleaning small surfaces with a powerful pump rated to 121 HP (90 kW)
121 HP (90 kW) High-Pressure Pump for smaller industrial jobs
These pumps are used in a variety of relatively small sized applications in in a variety of industries, such as industrial cleaning and jetting.  The pumps can readily pump special fluids, such as sea water, glycol, methanol or oils. At 121 HP (90 kW), it is a compact pump with classic KAMAT modular component system which enables the pump to be simply configured for different performance needs.  With relatively few parts, the maintenance of the K 9000-3G pump is simple and reliability is increased.   The K 9000-3G is the smallest pump with an integrated gear reduction-ratio.
Some of the common applications for this pump include surface cleaning (especially for compact areas), and general process technology. With the different pump heads in the KAMAT modular system, it's possible to pump different pumped media, such as fluids with temperatures up to 392 °F (200 °C).

WARNING: This product might contain a chemical known to the State of California to cause cancer, and birth defects or other reproductive harm. For more information go to www.P65Warnings.ca.gov
Specification

US
Metric
Minimum Flow
3.4

GPM

13

L/min

Maximum Flow
74.8

GPM

283

L/min

Minimum Pressure
1233

PSI

85

bar

Maximum Pressure
45543

PSI

3140

bar

Speed
530

RPM

Power Consumption
121

BHP

90

kW
Horsepower Specifications
Images Open in new Window/Tab
Our Company
For 50 years, Giant Pumps has offered the most dependable positive displacement high-pressure triplex pumps available. Designed and built to the highest quality standards, customers count on Giant Pumps products to keep their equipment running. Every design detail of Giant Pumps products is optimized for long-life and reliable performance, making Giant Pumps the most trusted name in high-pressure pumps and systems.