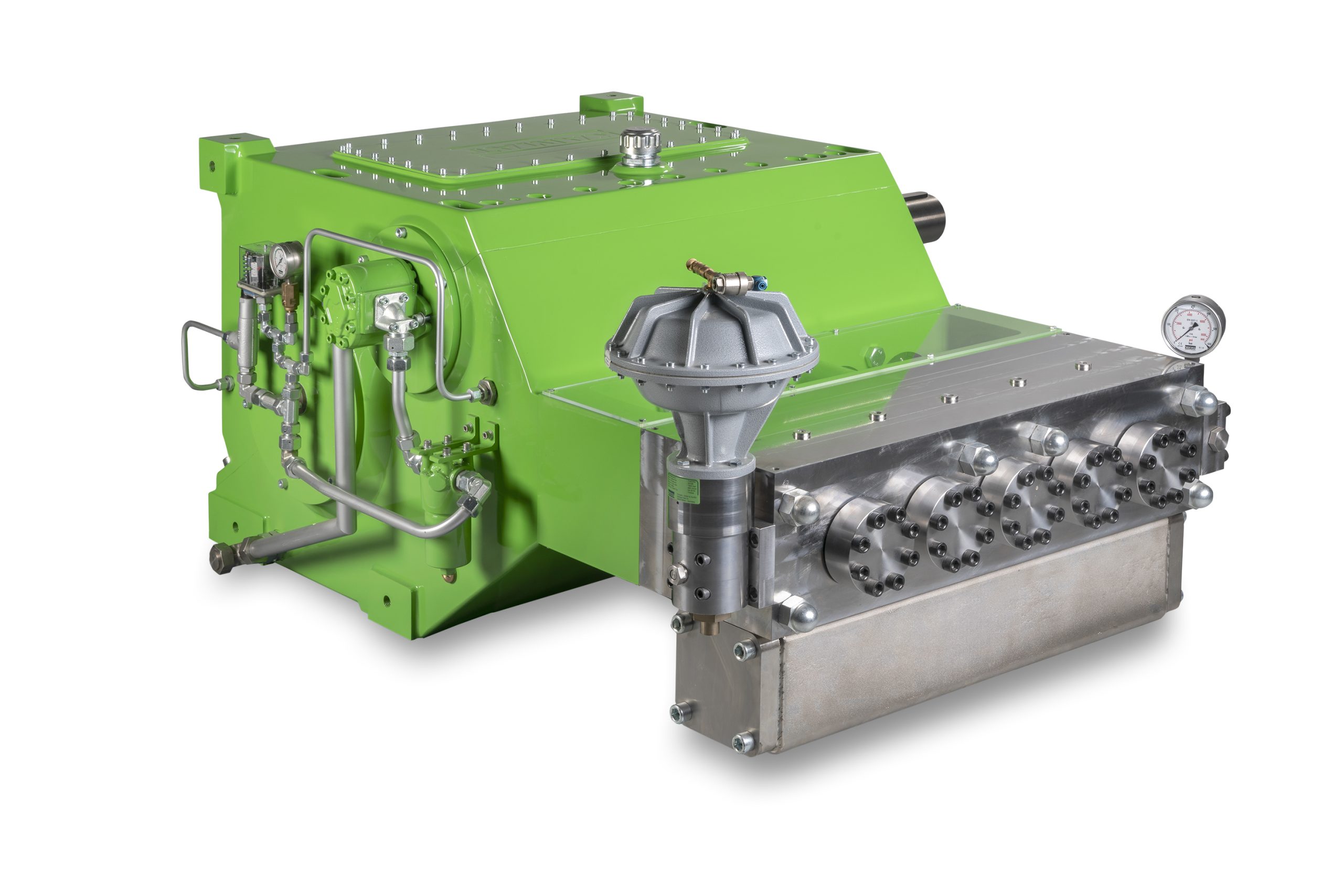 Large pump with a big punch – 1340 HP (1,000 kW)
Capable of cavitation-free pumping with high volume and high pressure
This 5-plunger pump is an extremely powerful pump.  The quintuplex design gives one the ability to create a system that does not always require a boost pump.  The special design allows for large flows without cavitation.  Similar to the smaller K55000-5G, it is used for large jetting or hydraulic applications. A particularly useful application is a high-end pump for mining jobs; as a workhorse in water hydraulics and in steelworks, it is extremely reliable for critical jobs.  In addition, it is used in large systems in the oil and gas industry. The gearbox comes standard with force-fed lubrication and oil cooler, which enables the user the ability to run the pump continuously.

WARNING: This product might contain a chemical known to the State of California to cause cancer, and birth defects or other reproductive harm. For more information go to www.P65Warnings.ca.gov
Specification

US
Metric
Minimum Flow
30.9

GPM

117

L/min

Maximum Flow
919.9

GPM

3482

L/min

Minimum Pressure
1378

PSI

95

bar

Maximum Pressure
50760

PSI

3500

bar

Speed
440

RPM

Power Consumption
1341

BHP

1000

kW
Horsepower Specifications
Images Open in new Window/Tab
Our Company
For 50 years, Giant Pumps has offered the most dependable positive displacement high-pressure triplex pumps available. Designed and built to the highest quality standards, customers count on Giant Pumps products to keep their equipment running. Every design detail of Giant Pumps products is optimized for long-life and reliable performance, making Giant Pumps the most trusted name in high-pressure pumps and systems.