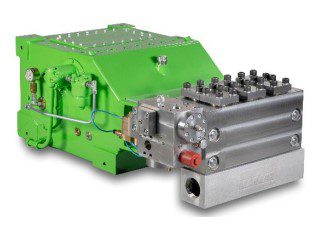 Large pump for jetting and hydraulic applications
Capable of withstanding 603 HP (450 kW) input, this pump delivers both high flow and high pressure
Often used in water hydraulic applications, the K45000-3G also can be used for large jetting jobs, which require both high flow and high pressure.  For water hydraulic applications, these pumps are often installed on large mobile systems.  Often, these pumps are used in mining applications with a flow range between 100 and 160 GPM (400 and 600 l/min).  In industrial applications, 53 GPM (200 l/min) and 15,000 PSI (1000 bar) specifications are required in continuous duty operations.  Based on the type of pump head used, the high-pressure pump is well suited for fluid media with a viscosity of up to 2,000 mPas) and a fluid temperature of up to 392 °F (200°C).

WARNING: This product might contain a chemical known to the State of California to cause cancer, and birth defects or other reproductive harm. For more information go to www.P65Warnings.ca.gov
Specification

US
Metric
Minimum Flow
15.3

GPM

58

L/min

Maximum Flow
345.8

GPM

1309

L/min

Minimum Pressure
1886

PSI

130

bar

Maximum Pressure
50760

PSI

3500

bar

Speed
440

RPM

Power Consumption
604

BHP

450

kW
Horsepower Specifications
Images Open in new Window/Tab
Our Company
For 50 years, Giant Pumps has offered the most dependable positive displacement high-pressure triplex pumps available. Designed and built to the highest quality standards, customers count on Giant Pumps products to keep their equipment running. Every design detail of Giant Pumps products is optimized for long-life and reliable performance, making Giant Pumps the most trusted name in high-pressure pumps and systems.