LP200GB-SS-180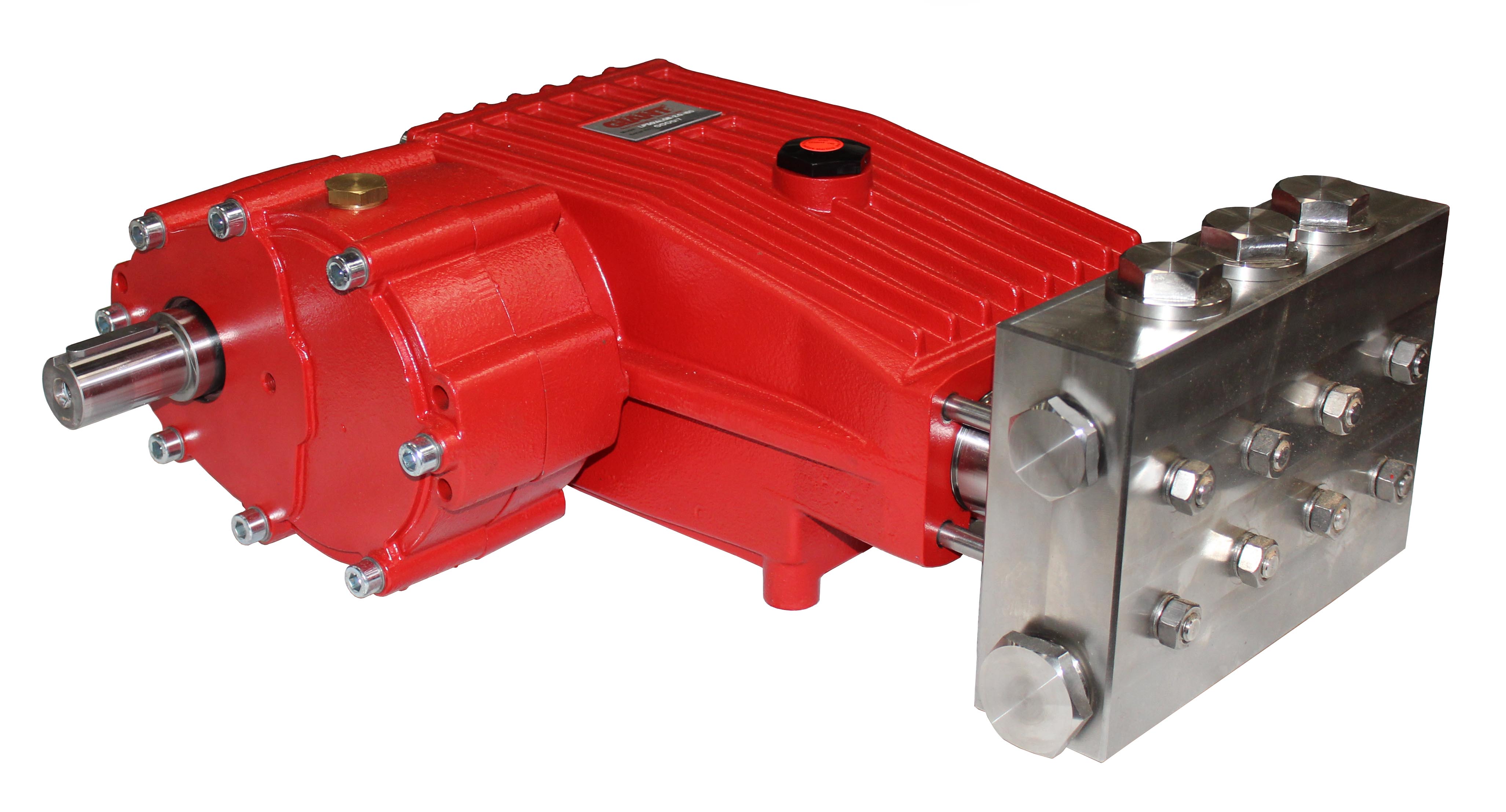 A German-made reciprocating triplex plunger pump.
Features:
Spheroidal cast iron crankcase with sight glass and vented dipstick; forged, through-hardened, ground and polished crankshaft; bronze connecting rods; hardened stainless steel plunger bases; solid ceramic plungers; nitrile seals with fabric reinforcing; stainless steel valves and cast aluminum bronze manifold.
WARNING: This product might contain a chemical known to the State of California to cause cancer, and birth defects or other reproductive harm. For more information go to www.P65Warnings.ca.gov
SPECIFICATIONS
U.S.
Metric
Max Flow (Continuous)
19.0 GPM
72.1 L/min
Max Discharge Pressure (Continuous)
3000 PSI
200 bar
Crankshaft Speed
1000 RPM
Input Speed
2000 RPM
Inlet Pressure
90 PSI
6.2 bar
Plunger Diameter
1.10″
28 mm
Stroke
1.65″
42 mm
Max Temp @ 1000 RPM
140 °F
60 °C
Pinion Shaft Diameter
1.38″
35 mm
Crankcase Capacity
114 fl. oz.
3.6 L
Weight
172 lbs.
78 kg
Inlet Ports
(3) 1-1/4″ BSP
Discharge Ports
(3) 1″ BSP
Shaft Rotation
Top of Pulley Towards Manifold
Shaft Mounting
Either Side
Key Component Material
Manifold
Aluminum Bronze
Plungers
Solid Ceramic Oxide
Valves
Duplex Steel
Seals
Nitrile With Fabric Reinforcing
Gear End
Spheroidal Cast Iron
---
HORSEPOWER SPECIFICATIONS
Contact Giant Industries for Information.
Horsepower Requirements
The ratings shown are the power requirements for the pump. Gas engine power outputs must be approximately twice the pump power requirements shown above.

We recommend a 1.15 service factor be specified when selecting an electric motor as the power source. To compute specific pump horsepower requirements use the following formulas:
Electric HP = (GPM X PSI)/1450
Gas HP = (GPM X PSI)/1100


*Engine power varies based on horizontal or vertical orientation, as well as by makes and models from each manufacturer.
---
REPAIR KITS
ITEM#
PART#
DESCRIPTION
Qty.
Plunger Packing Kit – Part #09307
36
13228
Leakage Seal
3
28
07140
O-Ring
3
38A
12055
O-Ring
3
40
13115
V-Sleeve
6
Valve Assembly Kit – Part #09196
44A
07150
O-Ring
9
44B
06266
Support Ring
3
46A
07064
Valve Seat
3
46B
07063
Valve Plate
3
46C
07062-0100
Valve Spring
3
Oil Seal Kit – Part #09577
31
07133
Oil Seal
3
Repair Kits Available
The repair kits listed to the right are available for this pump. If you need further information about these repair kits, or have questions about other specific parts for your pump, please contact you local Giant distributor or contact Giant customer service.