Towels

Giant produces a variety of non-woven towel products that can be used in car wash operations, as well as other locations to meet cleaning needs in applications such as; machine shops, computers, schools, restaurants and hospitals. The three main towel product lines are; Super Towel, Aqua Towel and Moistwipe™ towel. Towels are typically sold through on site vending machines, but they can also be purchased through specialty stores in a variety of packaging options.
---
Super Towels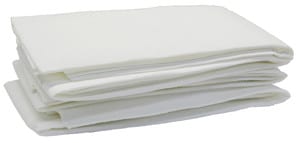 The Giant of all towels is a luxurious, full-bodied towel with an extremely soft "feel" for use on vehicles or other surfaces. Designed to be highly absorbent, Super Towel – size delivers excellent drying capacity for large surface areas.
Special Options — Decals available on request!
Sold by the case.
Product
Towel Size
Qty. per case
Shipping Weight
T2000S
19″ x 28″
48 cm x 71 cm
180
12 lbs.
5.4 kg
---
Aqua Towel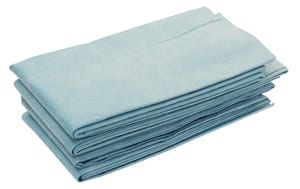 More than a "shop towel". Aqua Towel is a strong and re-usable towel that is excellent for both drying and general cleaning. Designed to work on a variety of surfaces and stand up to heavy wiping, this is the strongest disposable towel on the market and gives the user scrubbing power plus the ability to absorb liquids.
Sold by the case.
Product
Towel Size
Qty. per case
Shipping Weight
T50BB
18″ x 27″
45 cm x 68.5 cm
180
10.11 lbs.
4.6 kg
T50BW
18″ x 27″
45 cm x 68.5 cm
180
10.11 lbs.
4.6 kg
T25BW
18″ x 17.5"
45 cm x 68.5 cm
180
10.11 lbs.
4.6 kg
T25BB
18″ x 17.5"
45 cm x 68.5 cm
360
???
???
---
Moist Wipe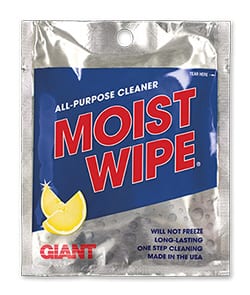 The original window cleaning towel. Moistwipe Towel has evolved into a one-step pre-moistened cloth-like towel — versatile enough to be used for a variety of cleaning applications and surfaces such as; glass, plastic, plated metal, canvases and many more — yet is strong and durable enough for scrubbing large areas. The specially-formulated moistening liquid diffused throughout the towel assists in cleaning After application, the liquid evaporates, leaving very little surface moisture and dries without streaking. Moistwipe Towel features a lemon-scent that makes any surface smell fresh and clean. Formulated not to freeze (even if stored in outside vending machines).
Sold by the case.
Product
Size
Qty. per case
Shipping Weight
T3000
12″ x 28″
30 cm x 71 cm
180
11 lbs.
5 kg
---
Custom Towels
Along with our standard towel products, Giant- offers our customers the capability to custom design- towels — either dry or wet. Based on your specific needs, we will design and fabricate a towel product capable of satisfying your most demanding cleaning or drying requirements. Depending on the towel type, Giant can build custom towels and packaging in lots as small as 20,000 pieces for dry towels or 80,000 pieces for moistened towels.
Call us to discuss your specific towel application needs.