23177-4000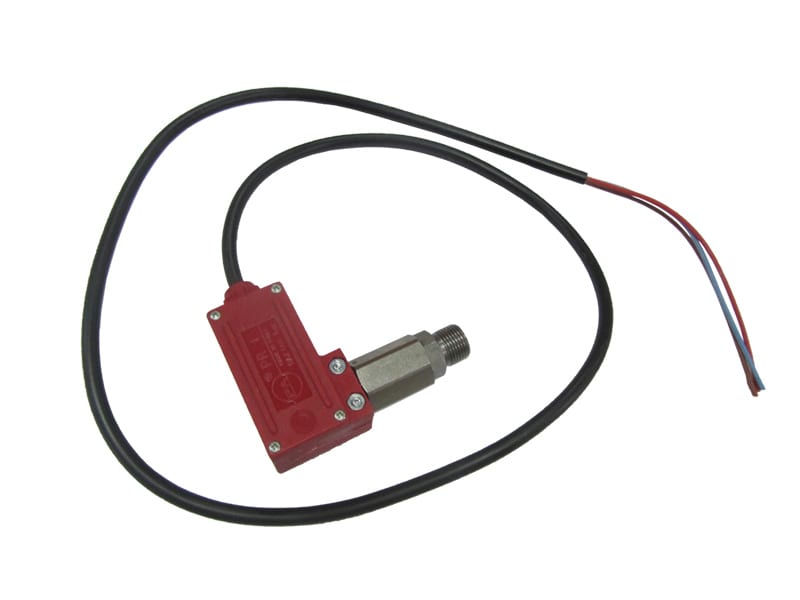 This switch is used to translate water pressure to a micro switch.  The pressure switch will control on and off functions for low amperage devices, such as burners and clutches.  The control setting is pre-set at the factory and can be wired in a "normally open" or "normally closed" manner.
WARNING: This product might contain a chemical known to the State of California to cause cancer, and birth defects or other reproductive harm. For more information go to www.P65Warnings.ca.gov
SPECIFICATIONS
U.S.
Metric
Pressure (Maximum)
8700 PSI
600 bar
Actuation Pressure
580 PSI
40 bar
Permissible Pressure
9570 PSI
660 bar
Environment Temperature
167 ºF
75 ºC
Inlet
3/8″ M BSP
Cable Length
1200 mm, Electric Wire 3 x 1 mm
Breaking Switch
16 (A) resistive load
Breaking Switch
6 (A) inductive load
Weight
0.6 lbs
0.27 kg
Materials
Brass
---
REPAIR KITS
ITEM#
PART#
DESCRIPTION
Qty.
Repair Kit – Part #09180
5
08805
O-Ring
1
8
08791
Back Up Ring
2
9
08584
O-Ring
1
Repair Kits Available
The repair kits listed to the right are available for this pump. If you need further information about these repair kits, or have questions about other specific parts for your pump, please contact you local Giant distributor or contact Giant customer service.