22090R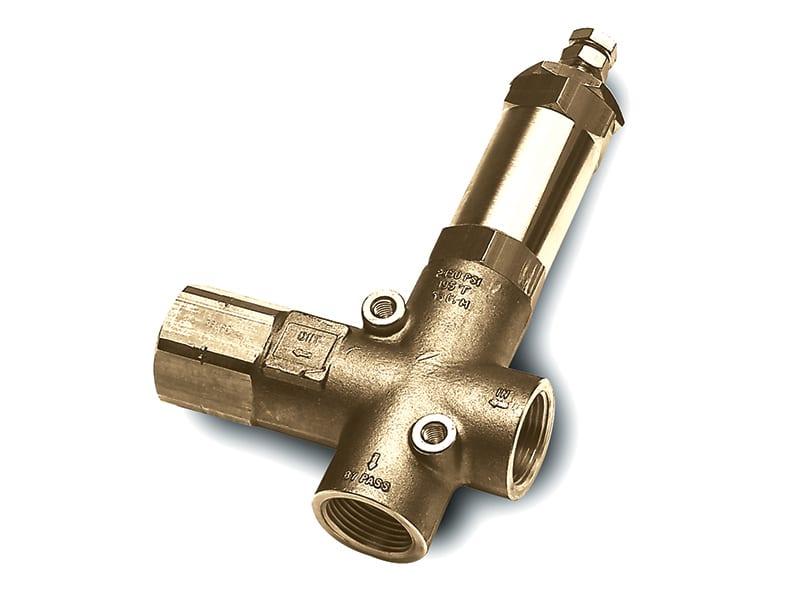 This is a pressure-actuated regulator that is designed for any that fits within the flow and pressure range of the regulator.  The regulator determines the direction of the flow in the system and maintains system pressure via an adjustable nut that controls the amount of tension on a pressure spring.  When the water flow stops, it is diverted through the bypass port at virtually no pressure.  The regulator is capable of handling one or more shut-off guns and should be run with no bypass (if the full flow from the pump is going through the regulator).  It actuates at around 20% above the system pressure.
SPECIFICATIONS
U.S.
Metric
Flow
52 GPM
200 L/min
Pressure (Maximum)
2200 PSI
152 bar
Continuous Temperature
194 ºF
Inlet
1″ FNPT
Outlet
1″ FNPT
Bypass
1″ FNPT
Weight
4.6 lbs
2.1 kg
---
REPAIR KITS
ITEM#
PART#
DESCRIPTION
Qty.
Repair Kit – Part #09182
2
08709
Back Up Ring
1
3
08710
O-Ring
1
5
08712
O-Ring
2
6
08713
O-Ring
1
7
08714
Back Up Ring
1
9
08716
O-Ring
1
10
08717
Shutter
1
11
08718
Seat
1
12
08719
O-Ring
1
21
08728
O-Ring
1
Repair Kits Available
The repair kits listed to the right are available for this pump. If you need further information about these repair kits, or have questions about other specific parts for your pump, please contact you local Giant distributor or contact Giant customer service.