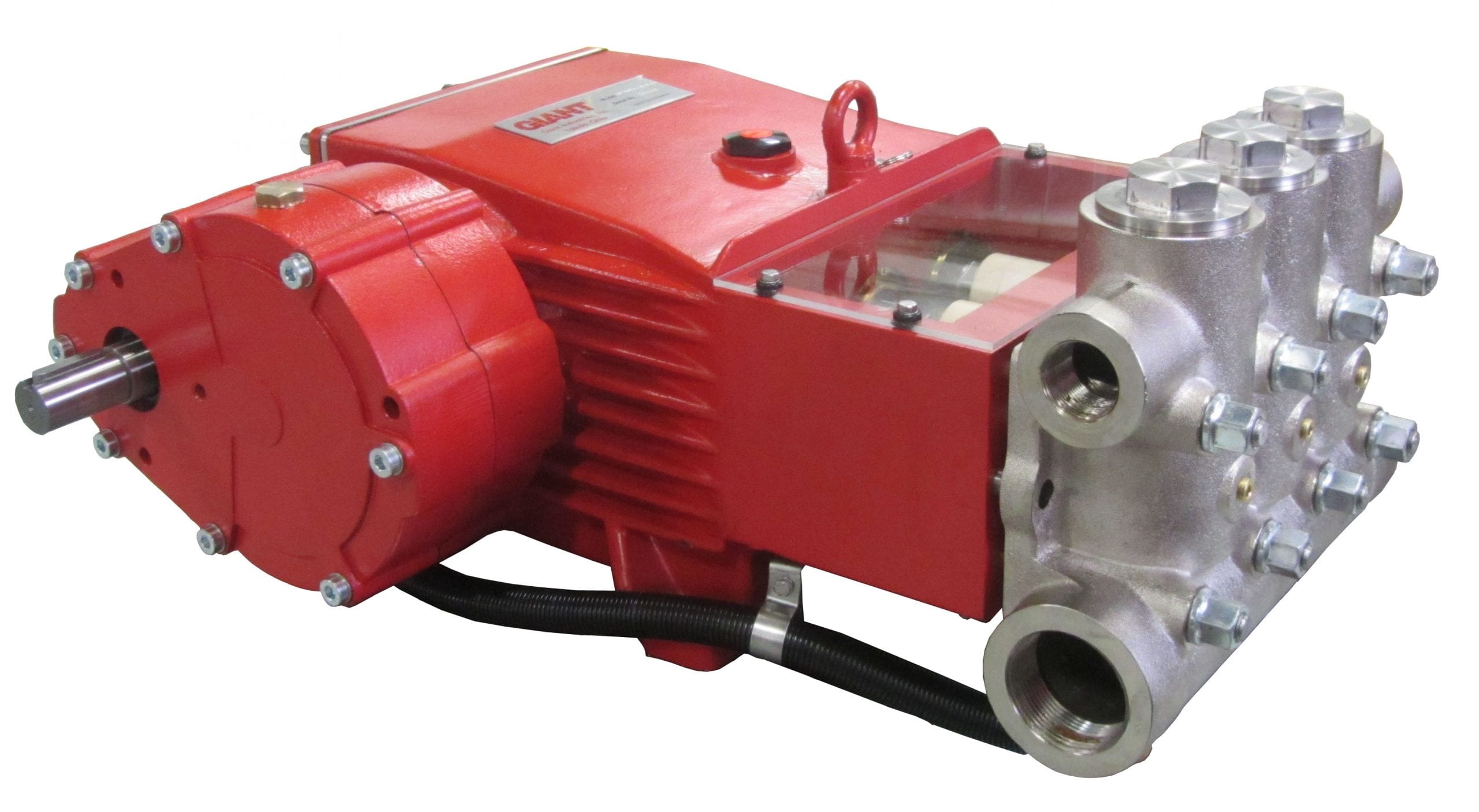 A German-made reciprocating triplex plunger pump.
Features:
Attached gearbox; spheroidal cast iron crankcase with vented dipstick; forged, through-hardened, ground and polished crankshaft; bronze connecting rods; hardened stainless steel plunger bases; solid ceramic plungers; nitrile seals with fabric reinforcing; stainless steel valves and nickel-plated Spheroidal cast iron manifold. Comes equipped with an integrated oil cooling system.

WARNING: This product might contain a chemical known to the State of California to cause cancer, and birth defects or other reproductive harm. For more information go to www.P65Warnings.ca.gov
Specification

US
Metric
Flow
55.5

GPM

210

L/min

Maximum Discharge Pressure
2900

PSI

200

bar

Crankshaft Speed
800

RPM

Max Temperature
86

°F

30

°C

Inlet Port Size
(2) 2-1/4" NPT
Discharge Port Size
(2) 1-1/4" NPT
Plunger Diameter
1.77

in.

45

mm

Stroke
2.28

in.

58

mm

Maximum Inlet Pressure
90

PSI

6

bar

Crankshaft Diameter
1.38

in.

35

mm

Crankshaft Rotation
Pinion Shaft Towards Back of Pump
Crankshaft Mounting
Either Side
Crankcase Oil Capacity US
2.1 gal
8.0 L
Weight
469

lbs.

213

kg

Manifold Material
Nickel-Plated Spheroidal Cast Iron
Crankcase Material
Spheroidal Cast Iron
Plunger Material
Solid Ceramic Oxide
Valve Material
Duplex Stainless Steel
Seal Material
Nitrile with Fabric Reinforcing
The repair kits listed to the right are available for this pump. If you need further information about these repair kits, or have questions about other specific parts for your pump, please contact you local Giant distributor or contact Giant customer service.
ITEM#
PART#
DESCRIPTION
Qty.
Plunger Packing Kit – Part #09603
38A
13156
O-Ring
3
38B
06258
O-Ring
3
39A
13290
Grooved Ring
3
42
13294
V-Sleeve
9
Inlet Valve Assembly Kit – Part #09659
51
05594
Inlet Valve Assembly
1
56A
07658
O-Ring
1
56B
07635
Support Ring
1
Large Discharge Valve Kit – Part # 09660
52
05600
Discharge Valve Assembly
1
55
05647
Valve Spacer
1
56A
07658
O-Ring
1
56B
07635
Support Ring
1
Small Discharge Valve Kit – Part # 09661*
51B
05450
Valve Spring
1
51C
05247
Valve Plate
1
51D
05596
O-Ring
1
52F
05599
O-Ring
1
56A
07658
O-Ring
1
56B
07635
Support Ring
1
Oil Seal Kit – Part #09221
32
07624
Radial Shaft Seal
3
33A
07627
O-Ring
3
*The discharge valve seat (item 52E) can be flipped over and used.  If it is damages on both sides, order kit # 09660.
Horsepower Specifications
Images Open in new Window/Tab
Literature
Documents open in new window/tab.
Our Company
For 50 years, Giant Pumps has offered the most dependable positive displacement high-pressure triplex pumps available. Designed and built to the highest quality standards, customers count on Giant Pumps products to keep their equipment running. Every design detail of Giant Pumps products is optimized for long-life and reliable performance, making Giant Pumps the most trusted name in high-pressure pumps and systems.