PRD3500 Air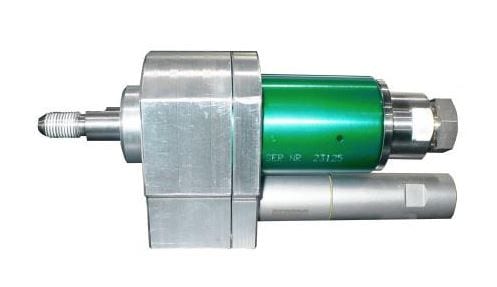 -Pneumatic drive with air motor (without nozzle head)
WARNING: This product might contain a chemical known to the State of California to cause cancer, and birth defects or other reproductive harm. For more information go to www.P65Warnings.ca.gov
SPECIFICATIONS
U.S.
Metric
Maximum Working Pressure
50,750 PSI
3500 bar
Maximum Capacity
13.2 GPM
50 L/min
Hose Connection
M 26×1.5 IG
Nozzle Head Connection
M 14 x 1.5 LH Male
Total Length
8.5″
217 mm
Weight
5.5 lbs.
2.5 kg
Usable Nozzle Inserts
Nozzle Heads for Rotating Tools Literature
Pneumatic Drive/Air Motor:
Speed
0-1800 RPM
Air Required
305 in3/s
5.0 l/s (filtered & oiled air)
Air Working Pressure
91.3 PSI
6.3 bar
Power
120W
---
REPAIR KITS
For repair parts contact Giant Industries at 1-800-633-4565.
Repair Kits Available
The repair kits listed to the right are available for this pump. If you need further information about these repair kits, or have questions about other specific parts for your pump, please contact you local Giant distributor or contact Giant customer service.