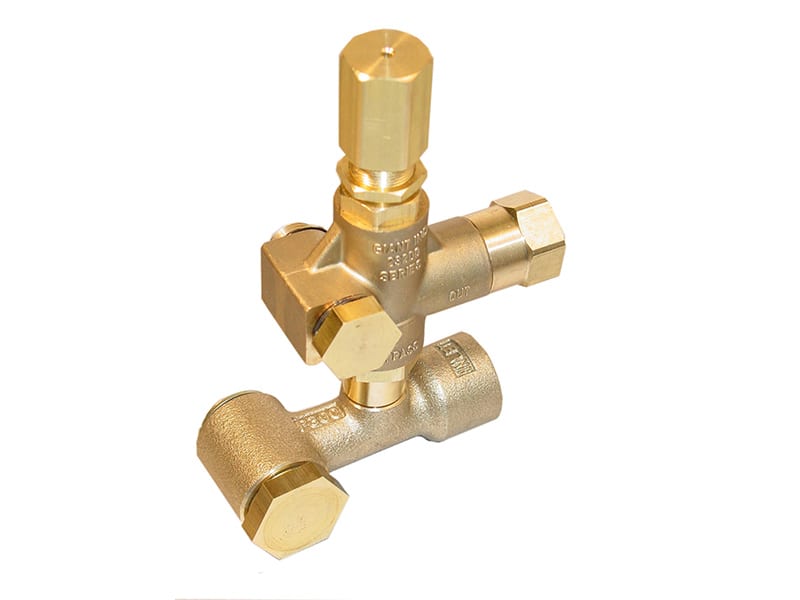 These pressure-actuated valves control the flow of the water to the nozzle(s). During bypass mode, all of the water is directed back to the supply; however system pressure remains constant (or slightly higher). This valve is typically used for applications which require frequent on/off action, such as a car wash application. However, they are more frequently used in applications that require a constant pressure at the point of use. They also are used whenever the driver of the pump is turned on/off, such as misting systems. While slightly different design concepts are used, typically these unloaders will actuate at 5 to 20% above the operating pressure of the system.
Flow ranges are from 0.5 GPM (2 l/min) to 625 GPM (2366 L/min) and pressure range is from 100 PSI to 50,750 PSI (7 to 3500 Bar). In lower pressure applications, a manually adjusted spring is used to control the flow; however, pneumatic and electric controls can also be used. Typical metal materials are forged brass, 303 stainless steel, 316 stainless steel and elastomers will be either Nitrile, Viton or Teflon.
For individual specifications see below.

WARNING: This product might contain a chemical known to the State of California to cause cancer, and birth defects or other reproductive harm. For more information go to www.P65Warnings.ca.gov
Specification

US
Metric
Maximum Flow
6.6

GPM

25

L/min

Max Pressure
3000

PSI

207

bar

Maximum Temperature
194

°F

91

°C

Inlet Port
1/2" FNPT
Outlet Port with Injector
3/8" MNPT
Outlet Port without Injector
3/8" FNPT
Bypass
Internal
Weight
2

lbs.

0.91

kg
The repair kits listed to the right are available for this pump. If you need further information about these repair kits, or have questions about other specific parts for your pump, please contact you local Giant distributor or contact Giant customer service.
ITEM#
PART#
DESCRIPTION
Qty.
Full Repair Kit – Part #09321
4
07770
O-Ring
1
5
08553
Support Ring
1
6
07915
O-Ring, Piston
2
8
08691
Piston
1
9
22659
O-ring
1
10
08563
Seat
1
17
08559
Support Ring
1
18
12326
O-Ring
1
19
07913
O-Ring
1
23
08564
O-Ring
1
24
08566
O-RIng
1
Seal Repair Kit – Part #09322
4
07770
O-Ring
1
5
08553
Support Ring
1
6
07915
O-ring, Piston
2
9
22659
O-Ring
1
17
08559
Support Ring
1
18
12326
O-Ring
1
19
07913
O-Ring
1
23
08564
O-Ring
1
24
08566
O-Ring
1
Materials
Our Company
For 50 years, Giant Pumps has offered the most dependable positive displacement high-pressure triplex pumps available. Designed and built to the highest quality standards, customers count on Giant Pumps products to keep their equipment running. Every design detail of Giant Pumps products is optimized for long-life and reliable performance, making Giant Pumps the most trusted name in high-pressure pumps and systems.