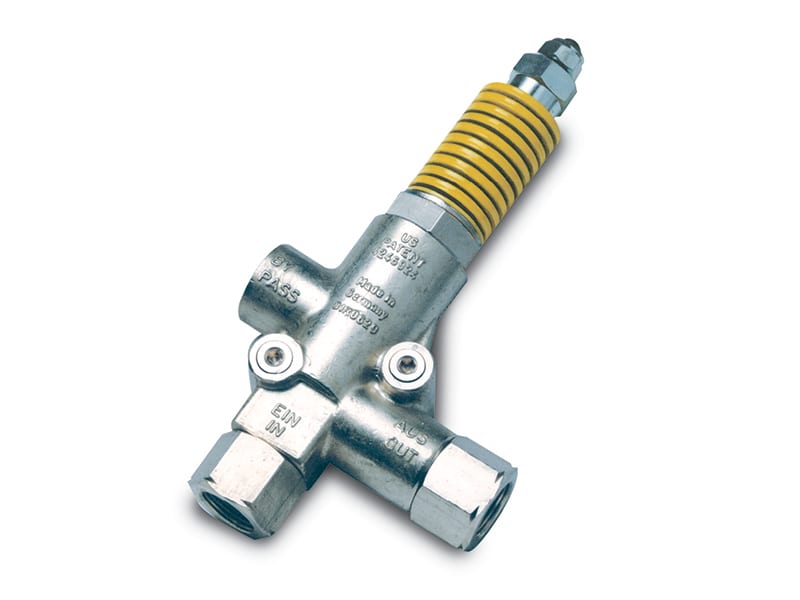 This is a pressure-actuated unloader that is designed for any pump that fits within the flow and pressure range of the unloader. The unloader regulates the flow in the system and maintains system pressure via an adjustable nut that controls the amount of tension on a pressure spring. When no flow is going out the outlet port, all flow is diverted to the bypass port at virtually no pressure. The unloader is capable of handling one or more shut-off guns and should be run with no bypass (if the full flow from the pump is going through the unloader). It actuates at around 10% above the system pressure.

WARNING: This product might contain a chemical known to the State of California to cause cancer, and birth defects or other reproductive harm. For more information go to www.P65Warnings.ca.gov
The repair kits listed to the right are available for this pump. If you need further information about these repair kits, or have questions about other specific parts for your pump, please contact you local Giant distributor or contact Giant customer service.
ITEM#
PART#
DESCRIPTION
Qty.
Repair Kit – Part #09461-43
3
06735-0003
O-Ring, EPDM
1
6
06817
O-Ring, Valve Stem, EPDM
1
7
06961
Support Ring
1
9
03263-0003
O-Ring, EPDM
1
10
03264
Support Ring, Teflon
1
11
12207-0400
Ball
1
12
12216
Valve Spring
1
12A
12208-0100
Seat, Inlet
2
14
12244-0400
Valve Plate
1
Materials
Our Company
For 50 years, Giant Pumps has offered the most dependable positive displacement high-pressure triplex pumps available. Designed and built to the highest quality standards, customers count on Giant Pumps products to keep their equipment running. Every design detail of Giant Pumps products is optimized for long-life and reliable performance, making Giant Pumps the most trusted name in high-pressure pumps and systems.