21650-50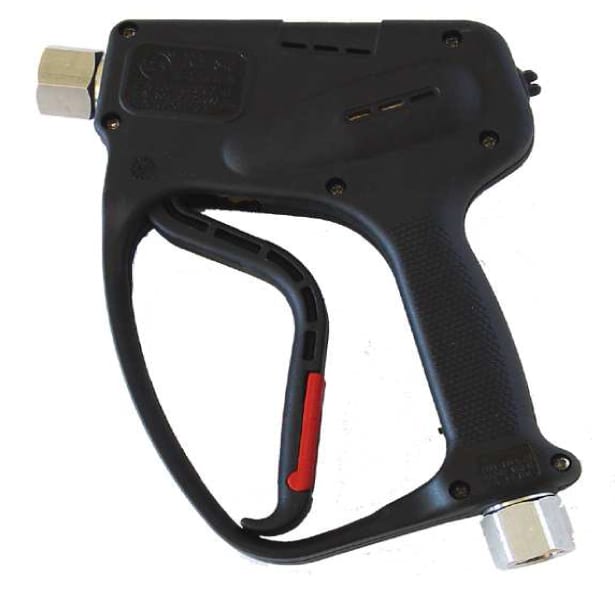 Giant provides the most durable guns available on the market. From the American-made brands to German and Italian gun/lance assemblies, Giant has a shut-off gun for a wide variety of applications. With a flow range up to 32 GPM (120 L/min) and a pressure range up to 43,500 PSI (3000 Bar), Giant can provide the right gun for your application. Popular markets include pressure washing, car wash, sewer cleaning, hydro-excavating, food processing, tube/bundle heat exchanger cleaning, surface preparation and more.
Giant's shut-off guns serve as an on/off valve at the point of use and generally control the flow of the liquid and can be operated manually, pneumatically and electronically. Gun types include rear load, dump gun and linear designs.
For individual specifications see below.
SPECIFICATIONS
U.S.
Metric
Flow
21.1 GPM
80 L/min
Pressure (Rated)
7250 PSI
500 bar
Pressure (Permissible)
8120 PSI
560 bar
Continuous Temperature
212 ºF
100 ºC
Inlet
1/2″ FNPT
Discharge
1/4″ FNPT
Lance Length
49″
1.24 m
---
REPAIR KITS
ITEM#
PART#
DESCRIPTION
Qty.
Plunger Packing Kit – Part #09769
3
04345
Back-Up Ring
1
4
08564
O-Ring
1
5
04310
Stem Seal
2
7
04309
Spring
1
8
04346
Piston and Seat
1
9
08573
O-Ring
1
10
04347
Back-Up Ring
1
Repair Kits Available
The repair kits listed to the right are available for this pump. If you need further information about these repair kits, or have questions about other specific parts for your pump, please contact you local Giant distributor or contact Giant customer service.